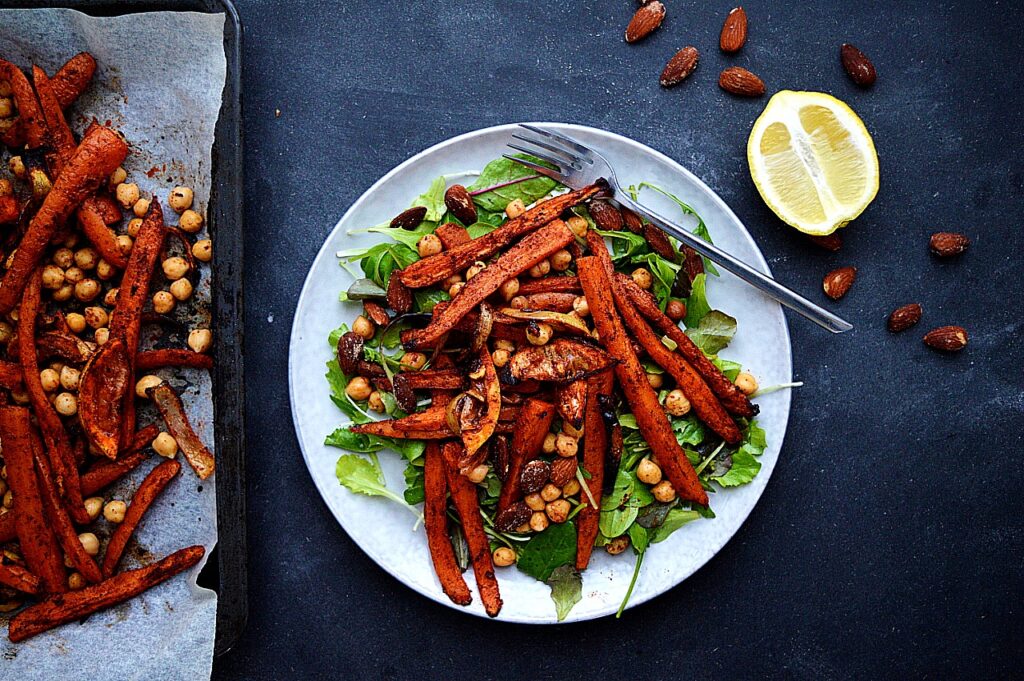 Denne veganske opskrift på marokkansk gulerods salat, skal bare prøves. De søde dybe karameliserede noter fra bagte løg og gulerødder op imod syren fra citronen og varmen fra kanel, spidskommen, gør virkelig denne ret til en fantastik smags oplevelse. Den er perfekt som tilbehør, men kan også sagtens nydes solo.
Læs også:
Vores oplevelse.
Det er vidst første gang vi har været i det marokkanske køkken, efter inspiration. Men det bliver bestemt ikke den sidste.
Opskriften er super simpel at gå til og du kan let lave den i forvejen og til mange, hvid du skal have gæster. Retten kan både serveres kold eller lun, hvilket også gør den god til en alt for lækker madpakke, som dine kollegaer vil kigge lagt efter.
Da vi lavede denne veganske opskrift på marokkansk gulerods salat, for første gang, var det bare os to herhjemme. Pigerne var på ferie hos deres mormor, så vi hyggede og havde endelig lidt tid til at få vendt verdens situationen.
Det kan nogle gange være svært, at finde tiden til, lige at få talt om hvordan vi går og har det, og hvad vi tumler med, når dagligdagen ruller derudaf med madpakke, tøjvask, opvask, oprydning, aftensmad osv.
Men den tid havde vi endelig. Og det var helt perfekt, at være i køkkenet og tilberede noget god mad sammen og så snakke og spise sammen bagefter.
Det gjorde bare hele oplevelsen så meget bedre<3
Hvad er marokkansk mad?
Maden i Marokko er kendt for sine mange aromatiske krydderier og spændende smagsnuancer. Det skyldes i høj grad landets placering og historie.
Det marokkanske køkken er influeret af både andalusiske, franske, arabiske og berberiske madtraditioner. En spændende blanding som du helt klart skal glæde dig til at prøve kræfter med.
For at give et godt billede af, hvilke krydderier marokkansk mad bygger på, kan vi se på den marokkanske krydderiblanding "Ras el hanout" som typisk består af chili, koriander, spidskommen, muskatnød, nelliker, allehånde, kanel, kardemomme, gurkemeje, lavendel, ingefær, peber og rosenknopper.
Du behøver ikke at anvende alle krydderierne, for at skabe en marokkansk stemning i de mad. F.eks bygger vores marokkanske gulerods salat på røget paprika, spidskommen og kanel.
Men nu til det, det hele handler om: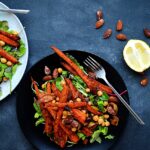 Udskriv
Vegansk opskrift på Marokkansk gulerods salat
Ingredienser
12

Små gulerødder

1

Løg

1/2

Citron

Økologisk

2

tsk

Røget paprika

2

tsk

Kanel

1

tsk

Spidskommen

1

Fed hvidløg

Presset

1

spsk

Oliven olie

1

ds

Kikærter

75

g

blandet salat

spinat, rucola salat osv

1

dl

Ristet mandler
Sådan gør du
Tænd ovnen på 200° varmluft

Skær gulerødderne i kvarte på den lange led

Skær løget midt over og så i grove både

Skær citronen midt over på langs og skær tynde både af den ene halvdel. Den anden halvdel skal ikke bruges, så gem den til noget andet 🙂

Kom gulerødder, løg og citron i en skål

Tilsæt røget paprika, kanel, spidskommen, hvidløg, salt og oliven olie.

Vend det godt rundt og placer det på et stykke bagepapir, på en bradepande.

Kom i oven og bages i ca. 30 minutter eller indtil gulerødderne er møre og let karameliseret.

Tag retten ud af ovnen og lad den køle lidt af.

Imens åbnes dåsen med kikærter. vandet hældes fra.

Kom kikærterne ved gulerødderne og vend det godt sammen, så kikærterne også får noget af alt den lækre smag på sig.

På to tallerkener kommes en bund af salt, derefter toppes med de bagte gulerødder. Drys en håndfuld mandler på og du er færdig.